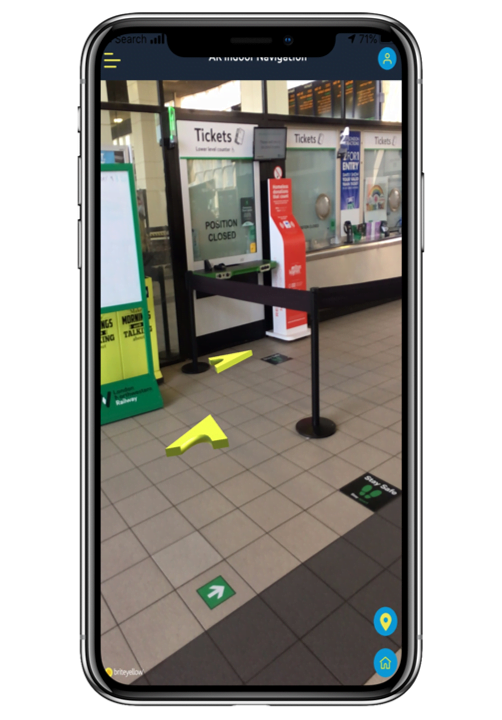 Briteyellow's vision to help make life easier for disabled people using public transport has taken a giant leap forward.
The company's innovative BriteWay solution has won up to £120,000 from the Department for Transport's Accessibility Transport Research and Innovation Grants (TRIG: Accessibility) programme, run in partnership with the Connected Places Catapult (CPC).
TRIG: Accessibility is focused on eliminating the barriers that disabled people face when travelling, and to help budding innovators and academics to propel their ideas to market more quickly.
Fredi Nonyelu, chief executive of Briteyellow, said: "Everyone should be able to use public transport with ease and confidence and yet one third of disabled people say they encounter problems which reduce their independence. Disabled people have the same rights to travel freely as anyone else. Sadly, that's not the reality many of them experience and we're here to change that"
BriteWay is a journey planning and station navigation system for passengers that can help instil confidence in disabled people to travel and to reduce social isolation.
"We are looking forward to working with disabled people over the next few months to bring BriteWay forward," said Fredi.
The trial period will be completed by the end of November 2021, with working prototypes being showcased to industry following this.
Built on a digital copy (a 'digital twin') of a railway station and its services, BriteWay uses an exciting mix of augmented and virtual reality to reduce travel anxiety for people who worry about the availability of staff, location of help points, the accessibility of platforms, and how to find their way around crowded indoor spaces.
People can even go on a virtual tour of the station before they leave home, to familiarise themselves with what is there and how to get there.
Once at the station, they use ultra-precision augmented reality wayfinding and intelligent routing options for passengers to avoid crowded areas an get to where they need to be in the most appropriate way.
That will include real time information about the status of facilities – say if a lift is broken down, or toilet facilities are closed, with the indoor navigation and positioning system making appropriate adjustments.
Research shows that 6.2 per cent more car journeys are being made because potential customers are too anxious to use public transport.
Briteyellow is actively seeking public transport operators to partner with us to reduce anxiety and increase passenger numbers.
Contact Briteyellow now to see how we can work together https://www.briteyellow.com/contact