Wearable technology has the potential to transform healthcare for elderly and vulnerable people in domiciliary and other settings around the world.
It has the potential to completely alter the care landscape for care providers, worried family members and the cared for themselves.
What is wearable technology and how is it applicable to healthcare settings?
It is what its name implies, you wear it; and you might be familiar with it if you have a fitness tracker or a smart watch.
There is also fashion technology, smartwear, tech togs, skin electronics which fall into the category of smart electronic devices which sit close to the skin. They can discover all kinds of data in this way, such as heartrate, skin temperature, and location.
Being smart, the devices are connected to the internet of things, and therefore the data is transmissible and shareable.
As in other spheres, the use of wearables has seen a dramatic expansion because of the impact of the coronavirus pandemic.
Healthcare employees are under more pressure now than ever before, with increasing demands on their time. The precious resource has been depleted as they deal with the pandemic, and as they are affected by it.
If only there was a way of remotely monitoring a patient or a user of care services in their own homes or care homes….
And of course, there is a way, via wearables.
There is a whole host of biometric and location data that can be leveraged in care settings.
Movement, temperature, and heart rate is immediately accessible, and it is proving to be increasingly accurate.
Where there is data, it can be interpreted and analysed.
With indoor location, movements can be tracked and interpreted by using artificial intelligence. If someone's movements change, or indeed do not change, at expected times, that can be as much of a sign that something is wrong as a falling heart rate.
When something unusual is detected, a carer a family member or a healthcare employee can be automatically alerted to check out the data.
This has the potential to transform life for the cared-for, the carers and worried family members, especially if they have to self-isolate.
Imagine if a vulnerable person, who usually wakes at 6am and moves around thereafter, is revealed by artificial intelligence to be stationary, an alert can be sent to a carer, who can then call around and check things out.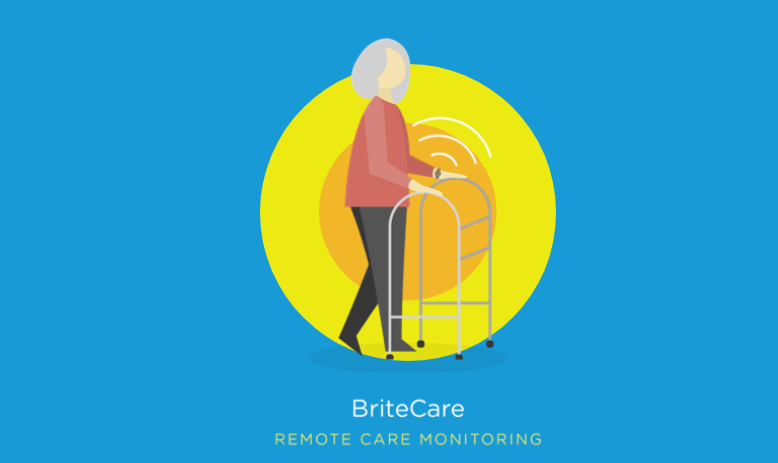 It doesn't mean an end to routine companionship or visits from carers but can mean that resources can be more quickly and easily assigned if things go wrong.
The markets are aware of the sea change happening in healthcare and valued the global wearable medical device market size at US $13.0 billion in 2019. It is expected to witness a CAGR of 27.9 per cent up to 2027.
Briteyellow is taking its place in this market by rolling out its BriteCare smart system for remote care monitoring or vulnerable people living alone or in assisted living.
BriteCare features a smart wearable and digital app that tracks heart rate, movement and temperature and analyses behaviour patterns through Artificial Intelligence, to identify anomalies and send alerts to carers.